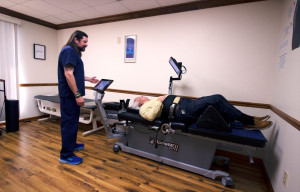 SpineMED Decompression at Little Mountain Chiropractic & Wellness
SpineMED® patented design represents the latest evolution in non-surgical decompression technology. Based on years of clinical experience, and feedback from healthcare professionals in the field, the SpineMED® in Denver, NC was designed to overcome the limitations and untoward side-effects found with previous devices. Cumbersome nylon harnesses, an outdated tower design, and antiquated traction components have been eliminated and replaced with a patented restraint system, exclusive pelvic tilt mechanism, and advanced computer controls. The result is the most technologically advanced nonsurgical decompression system for the conservative treatment of lumbar and cervical disc pathologies.
What Is Spinal Decompression?
Spinal decompression therapy aims to reduce pain and encourage natural healing for patients with herniated and degenerating discs. This therapy causes the disc material, which has either bulged or degenerated, to get pulled back into the correct joint space. It also strengthens the outer layer by stimulating the cartilage to regenerate, helping prevent re-injury.

WHY SPINEMED® IS BETTER
⇒ Overcoming Reex Contractions: It is commonly recognized that achieving decompression depends upon the ability to distract the spine without eliciting reex muscle contractions or spasms. SpineMED® monitors tension applied to the patient every 2.5 milliseconds and can make adjustments every 20 milliseconds. This ability to almost instantly sense and adjust tensions is a key difference that distinguishes SpineMED® Decompression from other devices and conventional traction.
⇒ Targeted Distraction: Get better results with better technology. SpineMED®'s patented pelvic tilt feature is designed to adjust patient positioning to accurately isolate and decompress specic spinal segments. With increased specicity and a more ecient capture, SpineMED® is engineered to achieve optimum decompression. The ability to achieve positive outcomes using lower forces greatly increases patient comfort and suitability, particularly with acute patients and the growing geriatric population.
⇒ Repeatable Sessions: Achieve virtually 100% repeatability from session to session. SpineMED® eliminates the variability or inconsistent positioning of harnesses, regardless of the patient or the operator, with its highly accurate pelvic restraint system.
⇒ More Comfortable: Give your patients a comfortable experience. SpineMED®'s pelvic restraints apply an indiscernible pressure against the pelvis, and an inatable air bladder supports the patient's natural lordosis to dramatically improve comfort during the procedure.
⇒ Wider Patient Suitability: Attract more patients. SpineMED®'s ability to achieve results using lower forces also increases the scope of suitable patients, especially with acute to subacute patients, frail patients, and the growing geriatric population.
⇒ Lower Forces: Reduce the pressure on your patients. With the elimination of outdated harnesses and direct capture of the pelvis with the patented restraints, SpineMED® decompression protocols call for a fraction of the force required with previous devices. For example, the average protocol for a 200lb patient on SpineMED® is 30lbs of force, compared with over 110lbs on older devices. SpineMED®'s lower force requirements dramatically increase patient comfort and tolerance while virtually eliminating any risk of exacerbations or other negative side effects.
⇒ Accommodate Any Size Patient With No Harnesses: Help more patients. SpineMED®'s pelvic restraints comfortably secure patients of virtually any size (70 to 500 lbs.). The restraints effectively displace adipose tissue to capture the skeletal structure without having to rely on different-sized harnesses.
⇒ Focused Distraction: Zero-in and accurately isolate damaged discs. SpineMED®'s pelvic tilt feature rotates the pelvis between 0-25 degrees during lumbar sessions, while the cervical section positions the head between 0-30 degrees of exion for cervical sessions. Adjustable patient positioning is designed to accurately move the focal point of distraction, allowing SpineMED® to target specic spinal segments. Older technologies attempt this by raising or lowering the traction box within their tower design.
Who We Help
Spinal decompression therapy may help with many conditions associated with bulging or degenerative discs, such as
Neck Pain
Lumbar Instability
Acute Low Back Pain
Lumbar Disorders
Nerve Compression
Lumbar Strains
Herniated Discs
Sciatic Neuralgia
Lumbar Nerve Root Injury
Degenerative or Damaged Discs
Spinal Arthritis
Low Back Pain with or without Sciatica
Degenerative Joint Disease
Disuse Atrophy
FAQ
Low back pain is a common complaint among many, and can be caused by various factors, from injuries to poor posture. The underlying cause of back pain may be the herniation or degeneration of the discs between each vertebra. Disc degeneration is a process where wear and tear of the disc causes it to deteriorate. Disc herniations or bulges are protrusions that lead to the compression of the surrounding nerves, causing numbness and pain.
How long does it take for spinal decompression therapy to show results?
Most patients who receive spinal decompression therapy report a reduction in their pain after the first few sessions. Usually, you can observe significant improvement by the second week.
How long does it take to complete spinal decompression therapy?
Each session of spinal decompression therapy can last anywhere between 20-30 minutes daily for five weeks. However, the number of sessions required to achieve complete relief can vary depending on the severity of your condition.
Learn More
Contact us to learn more about non-surgical spinal decompression, or to schedule an appointment.
---
SpineMed Decompression Denver NC | (704) 966-0816