Spinal Decompression at
Little Mountain Chiropractic & Wellness
Spinal decompression is a drug-free, non-surgical solution for painful conditions of the cervical or lumbar spine, such as herniated discs, degenerative joint disease, pinched nerves, bulging discs, facet syndrome, and other spinal and back disorders. Our team of expert chiropractors at Little Mountain Chiropractic & Wellness have helped countless patients heal naturally from such conditions, enabling them to lead healthy and pain-free lives.
New Patients

What Is Spinal Decompression?
Spinal decompression therapy aims to reduce pain and encourage natural healing for patients with herniated and degenerating discs. This therapy causes the disc material, which has either bulged or degenerated, to get pulled back into the correct joint space. It also strengthens the outer layer by stimulating the cartilage to regenerate, helping prevent re-injury.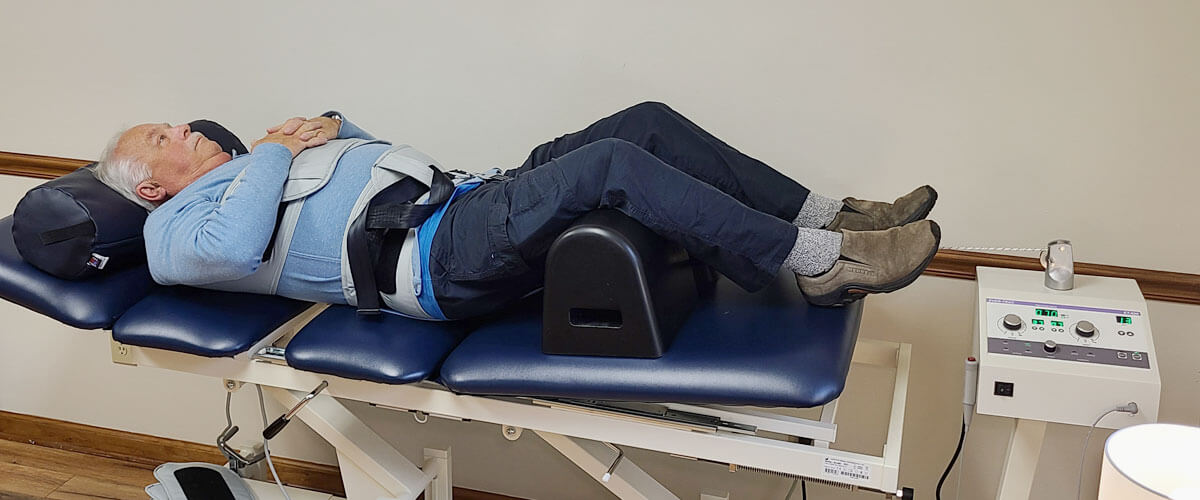 What to Expect
You will be asked to lie down on a decompression table, and we will harness you into a computer-controlled support system. This will stabilize your body by automatically adjusting the correct angle of pull (traction), depending on which area in your spine has issues. Most patients may experience a painless, gentle pulling sensation. Each session of spinal decompression therapy typically lasts 20-30 minutes.
Depending on your progress and condition, you may need multiple sessions over the next 5-7 weeks. However, to ensure the long-term effectiveness of the therapy, your chiropractor may recommend lifestyle changes and other types of therapy.
Who We Help
Spinal decompression therapy may help with many conditions associated with bulging or degenerative discs, such as
Neck Pain
Lumbar Instability
Acute Low Back Pain
Lumbar Disorders
Nerve Compression
Lumbar Strains
Herniated Discs
Sciatic Neuralgia
Lumbar Nerve Root Injury
Degenerative or Damaged Discs
Spinal Arthritis
Low Back Pain with or without Sciatica
Degenerative Joint Disease
Disuse Atrophy
FAQ
Low back pain is a common complaint among many, and can be caused by various factors, from injuries to poor posture. The underlying cause of back pain may be the herniation or degeneration of the discs between each vertebra. Disc degeneration is a process where wear and tear of the disc causes it to deteriorate. Disc herniations or bulges are protrusions that lead to the compression of the surrounding nerves, causing numbness and pain.
How long does it take for spinal decompression therapy to show results?
Most patients who receive spinal decompression therapy report a reduction in their pain after the first few sessions. Usually, you can observe significant improvement by the second week.
How long does it take to complete spinal decompression therapy?
Each session of spinal decompression therapy can last anywhere between 20-30 minutes daily for five weeks. However, the number of sessions required to achieve complete relief can vary depending on the severity of your condition.
Learn More
Contact us to learn more about non-surgical spinal decompression, or to schedule an appointment.
---
Spinal Decompression Denver NC | (704) 966-0816