Shockwave Therapy at
Little Mountain Chiropractic & Wellness
Are you struggling with pain, injury or dysfunction? Our expert physicians in Denver and Charlotte, NC can help improve your natural healing process with our proven and effective shockwave therapy.
At Little Mountain Chiropractic & Wellness and Carolina StemWave, our highly trained practitioners have been helping people with shockwave therapy for years. Extracorporeal shockwave therapy, which is effective for various musculoskeletal problems, is an excellent approach to managing and curing chronic discomfort.
Pressure waves from acoustic wave equipment apply a mechanical force to the affected tissues, resulting in enhanced blood circulation and healing. Shockwave therapy can help speed up healing without medications.
New Patients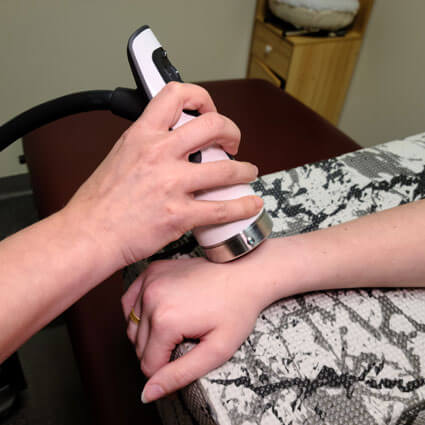 How Does It Work?
Shockwave therapy is applied directly to the skin, covering the affected region. Instead of using electrical impulses, this therapy uses low-energy sound waves, also known as acoustic waves. Shockwave therapy focuses on only those areas of the body affected.
The pressure applied prepares the tissue, boosting cellular circulation and metabolism to speed up the healing process. This therapy can even heal and build up bones by stimulating osteoblasts. Shockwave therapy for knees is widely popular.
What to Expect
This therapy uses sound waves generated from compressed air and is delivered by your therapist using a hand-held shockwave therapy device. Light pressure will be applied to the affected location, and the device will be moved gently over the area. When shockwaves are applied to tissues, minute tears are created in the tissues. This causes the body to develop new blood vessels to substitute for the injured ones. As a result, more oxygenated blood flows to the affected area and accelerates the healing process.
What Are Some Benefits?
Some benefits of shockwave therapy include
Reduced inflammation as the acoustic waves stimulate cellular activities
Increased collagen production and helps build a strong support framework for new cells to grow in the affected area
Decreased calcification by breaking calcium accumulation
The following are a few common conditions that may benefit from shockwave therapy:
Achilles tendonitis
Golfer's elbow
Jumper's knee
Plantar Fasciitis
Tendonitis
Tennis elbow
Book Today
Discover how shockwave therapy may benefit you. Contact us today to schedule an appointment.
---
Shockwave Therapy Denver NC | (704) 966-0816