Class IV Laser Therapy at
Little Mountain Chiropractic & Wellness
Horizon laser therapy is a Class IV laser therapy considered an excellent drug-free option to speed the healing process. This non-invasive therapy may decrease pain and help heal various types of injuries through deep tissue penetration.
At Little Mountain Chiropractic & Wellness, we can provide you with the best laser therapy services according to your needs. Our team of expert healthcare professionals has the latest, safest, and most effective technologies and state-of-the-art equipment.
New Patients

What Is Horizon (Class IV) Laser Therapy?
Laser therapy is a drug-free and non-invasive option designed to address chronic and acute pain. It is proven to bio-stimulate tissue growth and repair, and allows the body to heal itself quickly and naturally. The low-intensity laser consists of a light-emitting device that can be used on various parts of the body with almost no side effects.
Conditions Laser Therapy Can Help With
Horizon laser therapy may help with various painful conditions, such as
Headaches/Head: Ear infections, TMJ issues, tooth and jaw pain, migraine, sinus, tension headaches, etc.
Neck pain: Torticollis, sports injury, acute injury, motor accidents, disc degeneration, etc.
Knee pain/injury: Baker's cyst, ACL/PCL injury, arthritis, sports injury, etc.
Shoulder pain/injuries: Acute injury, brachial plexus injuries, A-C joint sprain, rotator cuff injury, etc.
Arm pain: Bicep tendonitis, tennis elbow, acute injury, soreness in muscle after exercise, etc.
Lower back pain/injury: Sciatica, facet joint injury, sprain/strain, disc degeneration, etc.
Ankle and foot pain: Heel pain, plantar fasciitis, sprains, arthritis, etc.
Hip and SI joint pain: Bursitis, sports injury, arthritis, iliotibial band syndrome, etc.
Wrist and hand pain: Carpal tunnel syndrome, acute injury, arthritis, trigger finger, etc.
Neuropathy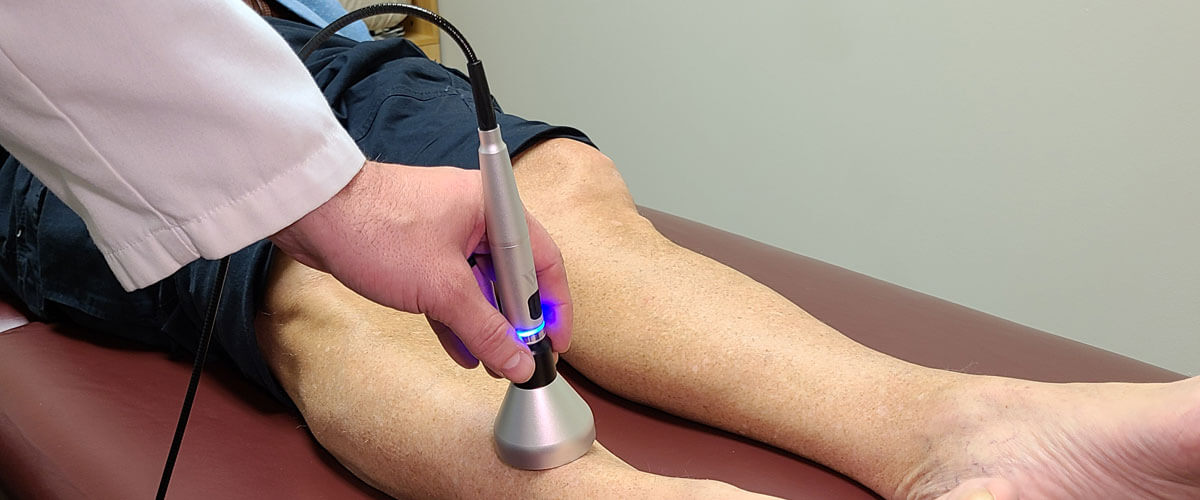 How Does Laser Therapy Work?
Laser therapy targets four particular structures within the damaged tissues. It uses red and near-infrared light to improve soft tissue and wound healing over lesions or injuries. It also reduces inflammation and gives relief from both chronic and acute pain.
It utilizes four different wavelengths of laser light:
650 nanometers targets superficial receptors to accelerate tissue healing and increase cellular regeneration. It also decreases the time taken for healing and reduces the need for antibiotics.
810 nanometers targets mitochondria and substantially enhances O2 to ATP conversion, stimulates the immune system, speeds cellular metabolism, and penetrates deep within the targeted tissue.
915 nanometers targets the body's hemoglobin and increases oxygen delivery to the targeted tissue, resulting in augmented healing.
980 nanometers targets the water present in the blood, enhances circulation, and reduces morbidity.
Benefits of Laser Therapy
Patients have experienced many benefits from Class IV laser therapy, including
Reduced swelling
Relief from chronic pain
Improved blood circulation
Faster recovery
Laser therapy for dementia: According to recent studies, infrared light therapy or laser therapy might be potentially helpful to patients who have dementia as it leads to improvements in memory, motor function, and processing skills.
Chiropractic Care and Laser Therapy
Laser therapy is an excellent adjunct to chiropractic care to help patients get relief from discomfort or pain. Unlike other high-intensity lasers, Class IV lasers do not generate high heat to warm the skin and are considered a gentler option. Laser therapy, combined with chiropractic care, is an effective treatment for managing all pain levels, easing inflammation, increasing nerve regeneration, and helping patients heal from chronic pain and injuries.
Schedule Today
Discover how laser therapy may help you. Contact us today to book a same-day appointment.
---
Laser Therapy Denver NC | (704) 966-0816